A Surprise of
Art Supplies + Inspiration
— Delivered Monthly —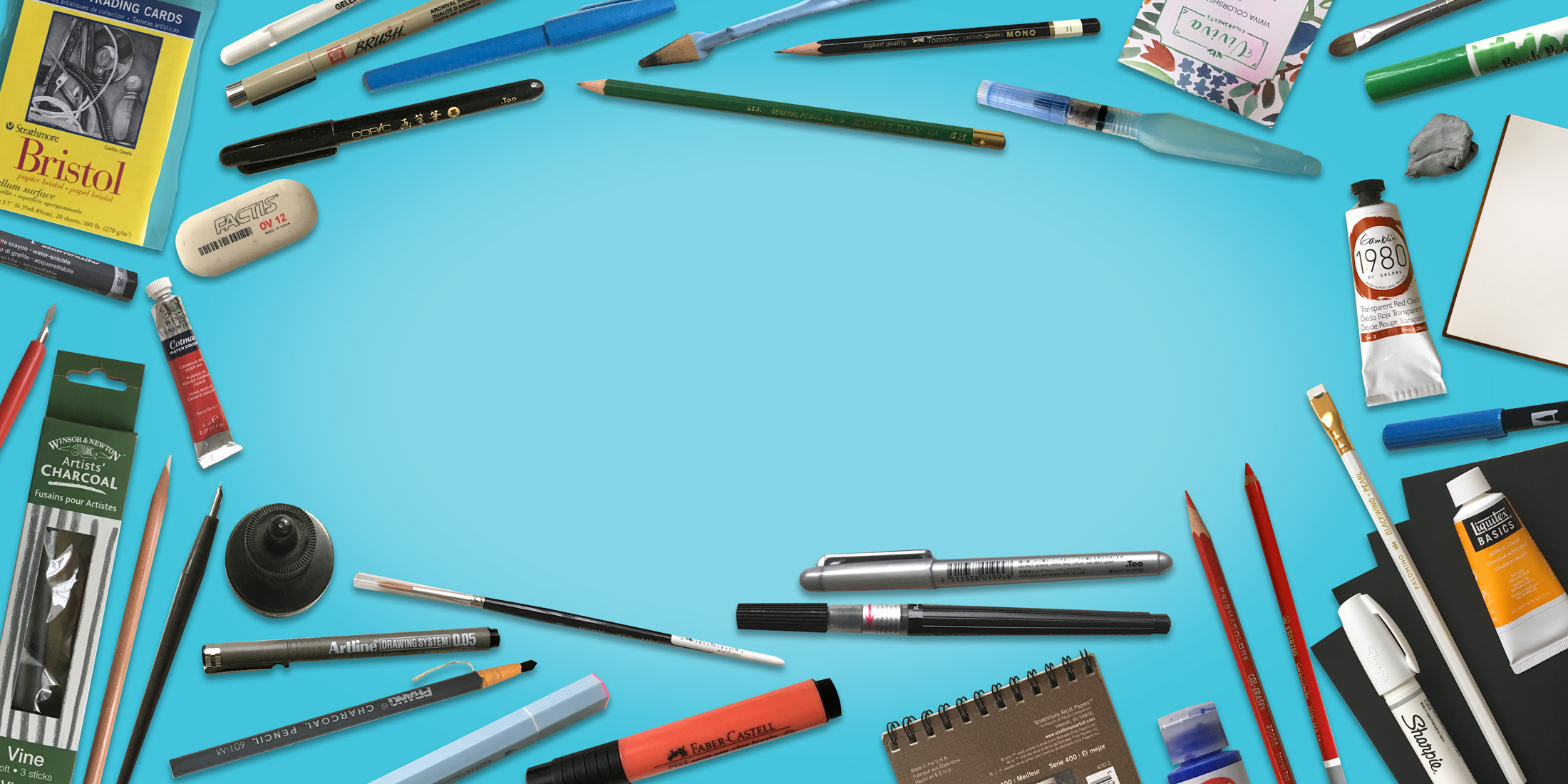 Celebrate with Us
It's our 5 year anniversary and we're celebrating. All subscribers will receive an extra special Surprise in December. You won't want to miss it.
A Curated Themed Surprise of Art Supplies
We're here to help you smile and find more joy in creating your art. Think of us as a monthly box of you-time. In each Surprise you'll get to try out the most sought-after artist's tools and materials around with a monthly art box full of art supplies picked by us with you in mind - and learn how best to use each and every one.
Start your subscription now for as low as $20 a month (with a yearly plan). It's your turn to Smile. Create. Repeat!
In the box
5 or more full-size artist quality art supplies from great manufacturers like Gamblin, General, Tombow, Strathmore, Moleskine, Pentel, Winsor & Newton and more. The inspiration and step-by-step demo, tips and video tutorial included every month to help you get the most from your subscription. Plus: free shipping, no signup fees, easy to cancel and great personal service.
Who is this art box best for?
Click. The TV is turned off as she jumps from the couch. Mary just heard the mail truck drive away and knows today is the day. She is so excited. She can't get rid of the SMILE on her face. She races to what was delivered. Perfectly fit in the mailbox is her newest Smile Create Repeat Art Subscription Box. Mary grabs her Surprise and, like a character from a Saturday morning cartoon, is gone. All that's left in her place is a cloud of dust.
Pick your plan →
Choose a monthly plan or save money with a 6 or 12 month plan for you or as a great gift.
We curate your box →
We select and test artist quality supplies that work together in a themed Surprise. Then we make a demo to show you what you can create and how to begin.
Discover something new
Smile when your new Surprise arrives at your door each month. Create something new. Repeat.
What is a
Smile Create Repeat Surprise?
A creative excuse to hangout and unplug with friends, loved ones or just a little you-time. Each month in your themed Smile Create Repeat art supply subscription box, you will receive 5 or more quality art supplies chosen and tested by artists. And not just pens each month. We've done watercolor, oil paint, scratchboard and more.
If you got a Ferrari and had to drive it on the sand would that let you appreciate the greatness of the car? No that's why we include surfaces (charcoal paper, watercolor paper, canvas, etc.) specific to your needs to give you the best experience with your new supplies and to truly enjoy the excellence of each unique tool.
Discovering your favorite is a little easier with the simple explanations for your new tools included in every box on our exclusive double-sided Creative Card along with inspiration, step-by-step lesson and additional surprises, delivered right to your door all in a reusable recyclable box.
What fellow artists are saying
why you'll love your SMILE CREATE REPEAT
Art Box.
Maybe you're sitting there with a glass of wine relaxing after a long hard day of doing everything for everyone else. And now you're ready for a little you-time. You take a little sip and open your Surprise.
The first thing you notice is the paper. Artist paper. You touch it. The texture is nice and you think I can't wait to use this. The next is a bundle of supplies wrapped like a little gift. A larger smile stretches to the edges of your face as you unwrap your present. I've never used these before, this is so exciting. What are they and what do I do with them, you think?
Looking back in the box you notice the Creative Card, a double-sided treasure map explaining your new favorite supplies and leading you on an exciting journey with a step-by-step lesson to inspire and guide you. You notice the YouTube logo in the corner and know you'll be watching the tutorial and following along later. You take another sip and push the box out of the way. As you do this you see there are more surprises in the box. You smile and reach for your new favorite supply as you enjoy a little more you-time.
5 or more art supplies

Tool-specific demonstration video

Inspirational step-by-step tutorial

Fun extras

Free Shipping

No signup fees

Easy to cancel

Great customer service